Ugly Betty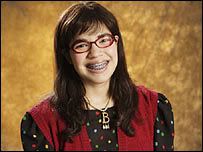 So my flatmate's got me hooked onto this fabulous and, naturally, very gay US show called
'Ugly Bett
y'. UB is apparently based on the 'Colombian telenovela' (yeah, I didn't realise telenovela was a word either)
Yo Soy Betty La Fea
, and has been adapted for the US market by producer - wait for it - Salma Hayek. Hayek appears semi-regularly as both a character in this show, and the show-within-a-show, a hilariously camp Latino soap opera that Betty and her family follow religiously. She may not be the world's greatest actress, but kudos to her skills of production.
Anyway, the pilot ep of UB is very
Devil Wears Prada
- highly intelligent but plain, poorly-dressed big-eyed young girl begins work at a premier fashion magazine. The owner of MODE magazine (played by Jim Robinson From
Neighbours
- man, was leaving that show the best thing he ever could have done for his career, he's in like every single US show now!!) has handed editor-in-chief control of the mag to Daniel, his womanising, fairly hot son (played by the gay jock who screwed around with Josh Jackson in
Cruel Intentions
), following the mysterious 'death' of the magazine's previous publisher, Fey Sommers.
As becomes clear, however, it would appear that a/ Jim Robinson has murdered Fey by tampering with her car brakes, and b/ Fey is actually still alive and in hiding. Doing her bidding is Wilhelmina, the uber-bitch editor who Jim Robinson passed over to give Daniel the top job. Wilhelmina herself has her own massively homosexual toadie, a kind of younger, bitchier version of Smithers.
Meanwhile, Betty is naturally ostracised by all the glamazonian, size-0 chicks who work at MODE. Her only friend in the company is a no-bullshit, Scottish (naturally) dress-maker with loads of worldly wisdom on watching one's back. Although Daniel himself is less-than-pleased when Jim Robinson (sorry, I just can't think of him as anyone else) appoints Betty as his EA - mainly to prevent Daniel sleeping with another one - Daniel soon comes to respect Betty's sharp mind, uncompromising honesty and skill.
Rounding out the cast is Betty's very poor but very likable Latino family - her kind father, trash-with-heart-of-gold sister and almost too-gay-to-function, homo-in-training nephew.
The style and tone of UB is not unlike Desperate Housewives - camp, pretty facade with dark undertones, cynical but heart-warming, and underscored by a murder mystery. And it is nice to see a slightly overweight leading female character on screen, getting ahead and earning respect through her intelligence and quality of character rather than her looks or figure. America Ferrera, who plays UB, has perfect comic timing and effortless, natural charm in abundance. The rest of the cast is also effective.
The breakaway star, however, has to be Vanessa Williams as Wilhemina, a modern-day Alexis Colby. Remember Williams - nudey Miss Universe, 'Save the Best for Last' song, Arnie's girlfriend in
Eraser
, etc? I know right - never picked her to be, like, a proper actress. But as the Streepesque fashion diva, Williams is absolutely sensational. The first episode actually shows her homo lackey injecting Botox into her forehead, and from there she only gets worse. This chick (assuming one of the Oz stations picks up the show) will be our new Alexis, our new Amanda Woodward, our new Samantha Jones - the fuck-you-all diva every gay boi wants to be. Plus, I don't know who Vanessa's real-life Botox-injector is, but for a 43yo mother of four, bitch is lookin' gooood.
For an intelligent show, it does take a few conventional liberties - UB is ugly because of bad hair, braces, poor taste in clothing and other factors that can be overcome in a duckling-turns-into-swan montage. And the Poor But Sweet Immigrant Trash family is a bit PC (although her baby-homo nephew who knows more about MODE than Betty ever will is adorable).
But overall, this is a great PG companion piece to DH. Hopefully, it won't lose its momentum as quickly as the latter seems to have done. Start downloading torrents at will - it's well worth the bandwidth.