Vale Sally Spectra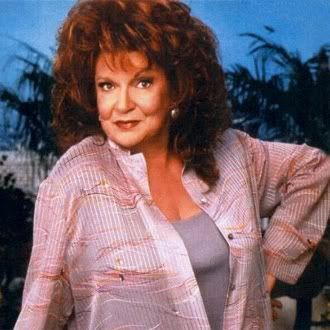 Darlene Conley: 1935-2007
Sally Spectra has left us
for the big fashion house in the sky. The boy and I are still grieving. When we first heard the tale-end of a report that a 72yo "Bold and the Beautiful" actress had passed away, our first thought naturally was that it was Katherine Kelly Lang (Brooke). What a tragedy to learn it was 'Our Sal' (a nickname I just invented for her and have otherwise never heard before nor plan to use again).
The official cause of death is listed as stomach cancer, but regular B&B viewers will know it's far more likely to have been that bizarre, short and irregular breathing Darlene would employ whilst delivering Sally's lines. Angry Sally, happy Sally, plotting Sally, grieving mother Sally - all sounded as though she were several hours into labour.
Darlene's hair, who has lived independently of Darlene for the last 20 years, is said to be devastated by the loss.
With Macy, Darla and now Sally gone, the Spectra family is pretty much non-existent - although the not entirely unfortunate-looking son CJ is due for a return. And what a void Sally will leave behind. Who will Stephanie throw into the Forrester pool now? Who will get drunk and cut off Stephanie's once-voluminous blonde locks? In short, who will now claim the title of LA's most glamorous drag queen?
Fare(*short breath*) well, Sal(*short breath*)ly. (*short breath*) You w(*short breath*)ill be (*short breath*) misse(*short breath*)d.