Curse of the Christian Tuba Player
Poor
Harold Bishop
. His first wife Mavis died unexpectedly, leaving him to raise son David and daughter Kerry by himself.
Then, Kerry was accidentally shot dead while out on a duck-hunting protest. "Won't somebody please think of the ducks?" she whispered softly into Joe Mangel's ear before carking it.
Then, Harold's beloved second wife, Madge,
asked for a pay rise and was written out of the show
contracted cancer and died. Her death was so catastrophically tragic that even her own children, Charlene and Henry, were so overcome with grief they could not bear to attend her funeral.
Now, it looks like Jelly Belly's
about to lose his son, daughter-in-law and granddaughter
in an orgy of Logie nominated-esque soap dramaticals.
All that's needed now is for Sky to suffer a surprise premature death - perhaps a nice decapitation in the style of The Omen?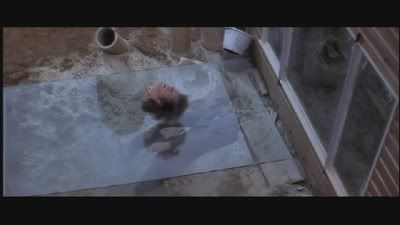 - and Harold could snap, go all postal/bell towery on the residents of Ramsay Street.
I see it now - Harold's injected Lyn - who rejected his (nude) plea for solace and companionship - with a slow-releasing poison and chained her leg to No 26's letterbox. The antidote is just beyond her reach, but he does offer her a hacksaw (did I mention the chain itself was hacksaw proof?). Big decision to make, with only 11 minutes left to live...
Then again, does a man who wears bow ties

really deserve the privilege of his loved ones' continued existence?
Note to self: Pick up a life from the deli on way home.