Here's To You, Miss Bancroft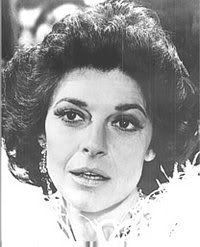 Anne Bancroft, 1931 - 2005
One of the few remaining Hollywood class acts is gone at 73. Most will remember Bancroft as cimena's definitive MILF (that's "mamma I'd like to f$%k", for those who haven't seen American Pie) Mrs Robinson in Mike Nichols' The Graduate: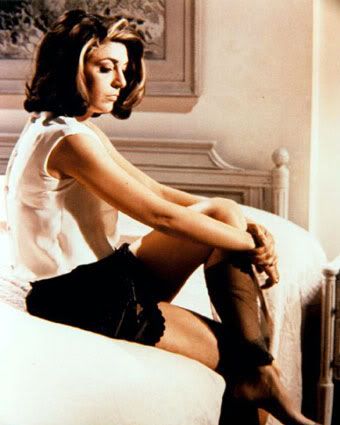 "I'm not trying to seduce you..."
But this role doesn't not nearly encapsulate her talent, beauty and versatility. I am fortunate that the most recent AB film I have seen and still clear in my mind, is The Miracle Worker, for which she won her Best Actress Oscar playing Helen Keller (Patty Duke)'s bull-headed (and partially blind) Irish teacher, Annie Sullivan. Duke and Bancroft had created these roles on Broadway and played them out dozens of times before the movie was released, but their scenes together still pack an enormous punch. Bancroft also added an Emmy along her career path to the Oscar and Tony she earned for Sullivan role (she had already won her first Tony starring opposite Henry Fonda in Two for the Seesaw).
Like Katharine Hepburn or Susan Sarandon, Bancroft was an actress who seemed to become more beautiful the older she got. In fact, she won some of her greatest roles over the age of 40 after years of relative anonymity as young Hollywood contract player "Anna Marno" (as with so many Italian performers in Hollywood, she was very quickly given a nice Anglo pseudonym). Whether she was playing dramatic (mother superior in Agnes of God, script-reader in 84 Charing Cross Road or Harvey Fierstein's Noo Yawk Jewish mutha in Torch Song Trilogy) or comical (To Be or Not to Be), Bancroft radiated indefinable elegance in all her roles.
Bancroft also deserves kudos for another Hollywood rarity: a star wedding that lasted over 40 years. Mel Brooks and Anne Bancroft would probably still have to be on paper one of the oddest combinations of marrieds, but against all the difficulties of their industry they stayed together till death did them part.
"When Mel told his Jewish mother he was marrying an Italian girl, she said: 'Bring her over. I'll be in the kitchen - with my head in the oven'."
Also interesting is to speculate on roles Bancroft could have played but turned down for one reason or another. Along with Shirley MacLaine, she was offered the role of Linda Blair's slightly stressed mother in The Exorcist but turned it down due to being pregnant with her only child, Max. She was also the leading choice to play Aurora, Debra Winger's mother in Terms of Endearment, with the role going to, interestingly, MacLaine. I also read somewhere that she and eventual Exorcist mum, Ellen Burstyn, were both considered for the role of Nurse Ratchet in One Flew Over the Cuckoo's Nest. Not to take anything away from Louise Fletcher, but Bancroft would have been horrifyingly good in that role.