Homovision
So finally, Bree's troubled son Andrew came out last night as the little homo we all knew he was likely to be. Well actually, he didn't come out as such, just got caught with his pants down (literally) by Susan playing with Gaby's latest gardener.
In case you missed, the object of Andrew's affection is one Justin: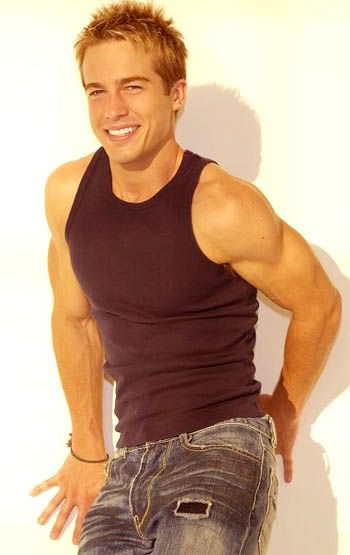 I only wish I had Gaby's "dilemma": Who do I want to "trim my hedge", Justin or John: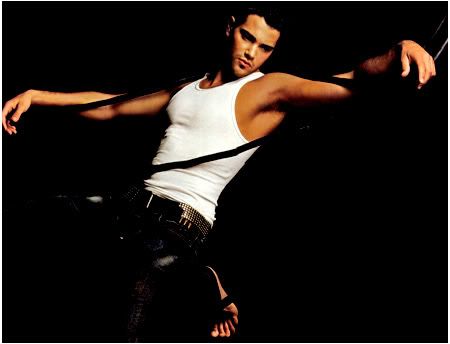 (Mental note to self: Get a house that has a garden. Then get a job that pays me enough to employ a gardener.)
Now, this posting isn't all just gratuituous eye-candy.
Pfft. Who am I kidding.
Ack! Bad penguin. Behave.
My point - I remember having one - is that can you imagine the casting cough for DH? The homosexuals who write, produce and direct this show must surely have a say in who plays Gaby's latest gardener, and on what criteria do you think an actor might get a role on this show? His ability to evoke the spirit of Olivier in his diction and projection? His Hoffman-like versatility? A combination of Pacino and De Niro-esque fire and intensity?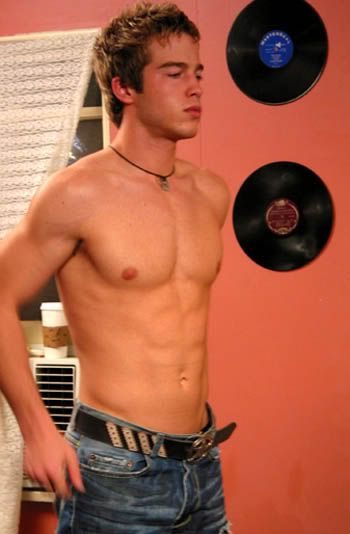 Sure. It's all about the diction.
So it looks as though we homos are back in prime-time again. Not just DH, Doctor Who is getting a little bit gayer too. No big surprise since this series has been re-invented by QAF creator Russell T Davies, but to be honest - and I never thought I'd say this - I think this is the problem with the latest series of DW: It's just too gay. I don't want to give too much away, but future episodes involve a prophetic vision of Botox, a Britney Spears song, a bi-sexual captain flirting with Chris Eccleston...All this on top of the killer wheelie bin we had to endure in Saturday's episode. One loyalist friend of mine insist this is just DW finding its latter-day camp niche - let's not forget Jon Pertwee and his frilly velvet full-body suits or crap producer John Nathan-Turner and his see-them-from-space Hawaiian shirts, after all - but there is a difference between a universally-appealing camp aesthetic and the nudge-nudge, wink-wink homo in-jokes with which Davies is infusing this series. There are actually straight fans of DW. Honestly. I went out with the brother of one once. They deserve a little more credit.
Can't see many homos on this installment of Big Brother, however. I did hear a mildly amusing joke on the radio, however:
Q: What come in a pair and can usually be found in a closet?
A: The Logan twins.