Juggling Penguin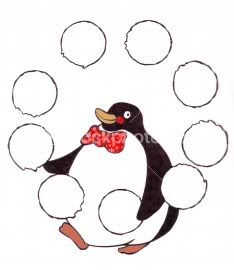 (Bless - I didn't actually think there'd be a picture of a juggling penguin but here we are. And what a fetching bowtie. Draws attention away from the expanding waistline.)
Another QP Lite posting today, sorry. I am indeed juggling many balls (sadly, only metaphorically) at the moment. Work is unprecedently insane, I've started up at the gym after a hiatus so my body is in constant pain (although I did get to have a training session with a spunky if condescending gym instructor), I've just booked the Barcelona-Rome leg of my flight, I'm finalising plans for my birthday dinner, preparing for one of my closest friends to stay with me next week and, if time permits, getting in the odd quarter-age freak out.
Just quickly: saucy sexpot Michelle Grattan is on the case about ALP whoring itself to Family First. Bearing in mind this is the party that said of Kevin Rudd: "KR has made some highly offensive statements in complete ignorance (about FF)...He should keep quiet..." Obviously, Labor has "gotten over it's (GRRRR!!!!!! EMPLOY ME AS AN EDITOR FOR FAMILY FIRST PRESS RELEASES!!! IF NOTHING ELSE I WOULDN'T ALLOW INCORRECT APOSTROPHOPES IN PRONOUNS TO GET PUBLISHED!!!!!) sour grapes (to) explore ways to move forward". Oh yes, because FF is such a forward-thinking, progressive party. Jump forward into 1958...
Would this be the first time both major parties are so offensively brown-nosing a Senate minor party that actually has no voting clout? Obviously as Grattan points out, the Coalition is doing this for insurance should "rebel" Queensland senator Barnaby Joyce flex his muscles a bit and not tow the line (let's not forget previous Queensland dissident Bob "The Mad" Katter). But what's Labor's excuse?
Back to the juggling. Circus music, please.