Boys on (Tele) Film
So trying to second-guess, as I am, who's going to be the male star of a 2006 US TV import that all my homo male friends collectively climax over upon but a breath of his name, my money originally was on Wentworth Miller, of Prison Break:

Lately, however, jeans have been creamed in my household by the mere suggestion of the name Horace Calloway, one of Geena Davis' kids in Commander in Chief, played by Matt Lanter.
Not knowing who Matt Lanter is, and therefore confused by otherwise very level-minded and unemotional flatmate's descent into liquified, blubbery madness at the passing thought of Matt Lanter, I decided to consult the electric internet (which thankfully, they now have on computers).
I found this: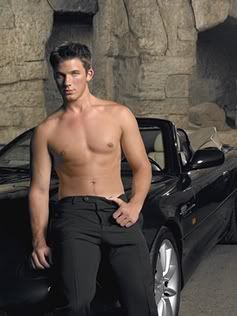 Face of a 5y.o on a hot 20 y.o's body. Gee - could that be any gayer?
The disappointing news is that, contrary to rumour, his character is not coming out. Doesn't mean Matt himself won't, though...
I think we have a winner.