Step Away from the Penguin
I have gone to lengths to celebrate the queerness of penguins and their quiet resistance to sexual oppression, so I don't much care for conservatives high-jacking the faggy little birds and claiming them as models of their own warped perception of reality.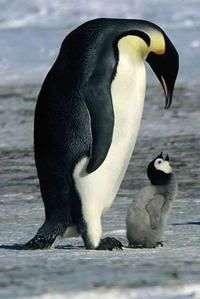 Twink penguin bracing himself for a "visit from Daddy".

How dare they re-name March of the Penguins "The Passion of the Penguins"? Any self-respecting penguin would gouge out Mel Gibson's eyes with his or her beak and feast on the gooey goodness.
The filmmakers at least don't sound like born-agains to me:

"It's obvious that global warming has an impact on the reproduction of the penguins," Luc Jacquet, the director, told National Geographic Online. "But much of public opinion appears insensitive to the dangers of global warming. We have to find other ways to communicate to people about it, not just lecture them."
Environmental conscience? Promoting open channels of communication instead of self-righteous sermonising? All very un-Right so far.
The painfully obvious correlation here that these conservatives are trying to avoid is that penguins extol their ideals of monogamy, sacrifice and child-rearing - and given that penguins are an especially queer breed of animal, queer sexuality is in fact conducive, not anathema, to monogamy, sacrifice and child-rearing.
The Sun-Herald rather unhelpfully throws in a conspiracy theory - "...the concealment of Sydney's fairy penguin colony begins to take on a more sinister aspect. The word conspiracy is too frequently bandied about, but it must be said that keeping the penguins hidden does favour a left-liberal, humanistic world view."
Wrong. In fact, concealing fairy penguins favours an anti-queer world view. The editorial's warning against modelling parental upbringing on penguins - Readers should be aware, however, that carrying their young on their feet to keep them warm may be seen by some as child abuse - is more useful.
Also: stick with the Heinz baby food instead of regurgitation for the little ones. Now that's good parenting!