Save Dan!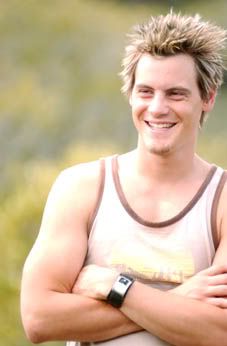 And so I hereby found RSPCD, the Royal Society for the Prevention of Cruelty to Dan.
OK, first things first - who is Dan? He's Dan O'Connor, an Oz Idol season 2 runner-up who last night made his debut appearance in Neighbours as Stu's brother - wearing, naturally, as little clothing as can be allowed at the 6:30pm timeslot: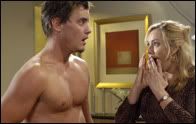 And from what cruelty is RSPCD determined to save him?
Dan has fallen prey to an evil cult calling itself the "Christian City Church", and "recently co-hosted a gospel concert by the rock band Third Day."
OK, so it's not the most evil cult of all, Hill$ong, but we're assured it's "similar".
Dan of course inflicts cruelty as he suffers it. Could he have been any crueller when he told us on Oz Idol that he was straight? Yes, when he went on to tell us that he was a sunbeam for JC, THEN telling us he's still a virgin who's saving himself for marriage. (So no fellatio involved at all to score a role on Neighbours? That'd be a first, I suppose. Unless, of course, the action took place on Jan Russ' casting couch...And there goes the last lingering threat of my hunger for the rest of the day.)
But Dan knows not how cruel it is to humanity that something so beautiful should be so inaccessible and so corrupted by sinful, perverse influences such as evangelicalism.
So I implore all self-respecting gay men to sign up quick to RSPCD so that we can save this gorgeous little sparrow with broken wings from himself.