Anyone for Tennis?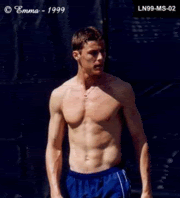 OK, lazy afternoon gratuituous eye-candy posting. Vaguely related to my life in that last weekend I managed to get locked inside a tennis court. Unfortunately it wasn't with Marat Safin. *sigh*
And while we're on tennis: I've had about half a dozen different sources point out my resemblance to Roger Federer:

I report, you decide.
What a self-indulgent posting this is. Bad QueerPenguin. Bad!