Vale Aaron Spelling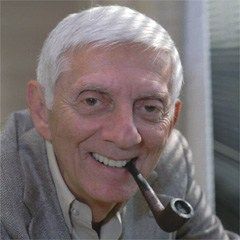 Aaron Spelling: 1923-2006
So the old boy's finally left us for the cheesy TV show in the sky.
Thank you Aaron for Charlie's Angels, and setting Farrah Fawcett Majors O'Neal on the path of facial reconstruction we know and piss ourselves at love today.
Thank you Aaron for Dynasty, and taking Joan Collins away from fighting off any more giant papier-mache ants and putting her where she belonged, squarely in the Carrington lily pond fighting Linda Evans instead.
Thank you Aaron for T.J Hooker and for giving us William Shatner in skin-tight black road-cop attire. Zepplin in a condom. Mmm.
Thank you Aaron for The Love Boat, the single greatest has-been extravaganza since Earthquake only a year earlier.
Thank you Aaron for Fantasy Island and having the brave vision of white Armani. De plane, Aaron. De plane.
Thank you Aaron for 90210 and the strange-looking monument to bulimia we know as your daughter, Tori.
Thank you Aaron for Charmed and for resurrecting Shannen Doherty's career. Thank you also, Aaron, for killing that very career three seasons later.
Thank you Aaron for Models Inc, which ensured Cameron Daddo's never had any acting work since.
Thank you Aaron for Melrose Place and for having Heather Locklear as a "special guest star" for seven seasons.
Thank you Aaron for Soapdish and giving Sally Field the chance to say, "I don't feel quite right in a turban. What I feel like is GLORIA FUCKING SWANSON!!" and/or Teri Hatcher replying to Kevin Kline's "You have beautiful eyes!" with "Oh, they're nothing compared to my tits!"
I won't thank you for Seventh Heaven, your religious right breeder propaganda posing as "family entertainment", but that's ok - you had to screw up at some point! (Oh, right. The Heights. Robin's Hoods. Savannah. Malibu Shores. Pacific Palisades.)
Still, we'll miss you and your massively oversized eyes. Cheers, thanks a lot.